BREAKING NEWS: WATCH THE BLACK WOMEN'S ROUNDTABLE AS THEY SHARE PRELIMINARY DATA ON HOW AND WHY BLACK WOMEN "LED THE WAY TO VICTORY FOR PROGRESSIVE CANDIDATES IN 2017.
Black women didn't just vote in 2017, Black women led the way by running successfully for state-wide and local office; trained, funded and endorsed progressive Black candidates; organized successful Black voter mobilization & turnout campaigns and protected voters and voting rights for all Americans across the nation.
Based on these preliminary findings, we believe Black women will take their politics to new levels of success in the 2018 Mid-Term Election cycle and beyond. So for those who want to win in the 2018, remember Black women are the "secret sauce" to victory….Follow Black Women.
CLICK HERE TO VIEW FULL REPORT
Congressional leaders are considering eliminating the crucial Medical Expense Deduction - costing some of the oldest, sickest taxpaying Americans thousands of dollars each year.
Will you help us stop this unfair Health Tax?
CALL YOUR MEMBER OF CONGRESS to stand against any tax bill that would increase taxes for seniors!
HealthCARE is a Human Right, #NotAPrivilege!
October 9, 2017 (Washington, DC) – Today, the National Coalition on Black Civic Participation (NCBCP), in partnership with the Lawyer's Committee for Civil Rights Under Law, launches the Black Youth Vote! (BYV!) #STOPTHEHATE Organizing Campaign in Atlanta, Georgia. BYV state partners leading the campaign include: Living Green Club/Building Green Initiative HBCU Green Fund @ Clark Atlanta University, FL BYV, Florida Coalition on Black Civic Participation, Alabama BYV, Alabama Coalition on Black Civic Participation; Philadelphia BYV, Rising Sons; and Prince Georges BYV, Community of Hope AME Church in Temple Hills, MD.

The BYV! #StoptheHate Campaign is designed to empower campuses, universities and communities with the tools of civic engagement as a means to reduce the growing racial tensions and rise of hate crimes now impacting and threatening communities of color.
The Black Women's Roundtable (BWR) and Essence Magazine released the "3rd Annual Power of the Sister Vote Poll" on Wednesday, September 22nd at the

2017 CBCF Annual Legislative Conference.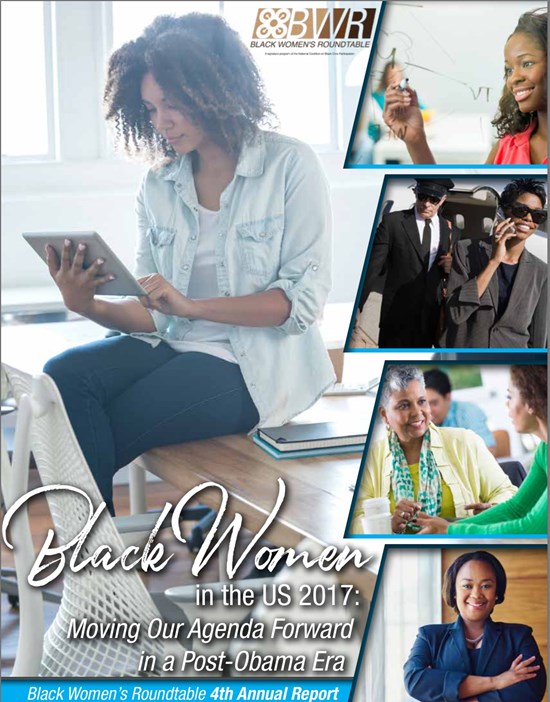 2017 BWR Report 4th Edition - Black Women in the U.S., Moving Our Agenda Forward in a Post-Obama Era
2017 BWR Report 4th Edition - Executive Summary