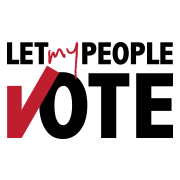 #LETMYPEOPLEVOTE
"Let My People Vote," a riveting short documentary exposing the harsh voter suppression laws that prohibit 6.1 million Americans from voting, is fast becoming a rallying call for youth to participate in the midterm elections.
On Tuesday, November 6th, 2018, Floridians will have the opportunity to VOTE YES on Amendment 4 that will give 1.4 million returning citizens the right to vote!

Amendment 4 restores the eligibility to vote to people with prior felony convictions who fully complete their entire sentences – including any probation, parole, and restitution – before earning back the eligibility to vote. The Amendment specifically excludes those people who have committed murder or a felony sexual offense.

HERE IS HOW YOU AND YOUR ORGANIZATION CAN HELP!

1)

Join the Unity '18 "Let My People Vote" National Adopt-A-Day Phone Banking Campaign on October 16, 2018.

We will gather from 5 – 8 pm EST to call Black voters in Florida and encourage them to vote.

To volunteer for "Let My People Vote" National Adopt-A-Day Phone Banking Campaign on Monday, October 15th:
a. Join Us in Orlando. If you or your members will be in Orlando, FL on Monday, October 15th and can help us make phone calls, click here.

b. Join Us in Washington, DC. If you or your members will be in the Washington, D.C., on Monday, October 15th, click here.

c. Join Us Virtually. If you can't join us in Orlando or Washington, DC, you can make calls from home or where ever you might be. For details, click here.

Once signed up for October 15th, you will get two emails.

The 1st email immediately, which confirms day and time of phone banking event and information about the predictive dialer phone banking technology we will be using. The 2nd email will arrive the day of the phone bank, it will include a code to log on to hub dialer, which is the predictive dialer system used to make calls.

2) Join us on Social Media for Second Chances "Let My People Vote" Twitter Storm on Tuesday, October 16, 2018, 12 Noon – 1:00 pm. Look to receive social media kit next week with details.

Please remember, that In order for Amendment 4 to pass, we need at least 60 percent of Floridians to VOTE YES on Nov. 6th.

So, we need All Hands On Deck!

For additional information or assistance, please contact Holli Holliday, Senior Political Organizing & Data Advisor, NCBCP, at (202) 659-4929 (office) or (816) 728-0707 cell.

Thank you for your leadership, partnership and support!

Together, we will win on November 6th!
To learn more about #LetMyPeopleVote, visit their movie and campaign page, or follow the effort on Facebook, Twitter, and Instagram.